[shadow=red]Message Board Series 4 Custom Dunny Trade [/shadow]
PLEASE READ ALL OF THE RULES!!!!!!! before deciding to add your name on the list or not.
- 40 open spots this time around (i reserve the right to take you off the list if i dont see you fit)
- there is no minimum post count... but u need to of been a member at least since JULY 2nd 2007
1. Ask yourself can i have my custom DONE and READY to ship by August 30th, 2007, (that gives you 4 weeks to have at this!)
2. Make a custom 3" dunny, it can be whatever you want.
3. Add you member name to the list and you will recieve a PM requesting your mailing address.
4. On August 27th ,2007 have a picture of your custom prepared to send to me or you will not get a adress to ship to, and i will not give your adress out for someone to ship to you.
Once i have verified that all Dunny's are accounted for..
5. The you will receive a PM with an address of where to send the custom dunny you made.
6. If all goes as planned you will receive a custom 3" dunny by another artist.
I Will no Longer make sure internationals Trade with internationals... I think its fun when all names are in the bag to be pulled, when internationals trade with only internationals, it brings the fun way down... simple more then likely someone from the states is shipping to you, so you can be a good sport and ship to another U.S. trader.
List Banned for good:
stizellyawizell never sent
maacrap Never Sent for series 2
mikkeeyyy says sent for series 2 but was never received
TradeMark310 - Not good with communication, trade partner never received from series 3
Here is the links to past trades, and photos of the trade posters... the links are listed so you can get an idea of what goes on, and the pictures are posted to show previous talent... and to just show off the goods we get from these awesome trades!
Dunny Trade Series 1
http://forums.kidrobot.com/viewtopic.ph ... ight=trade
Dunny Trade Series 2
http://forums.kidrobot.com/viewtopic.php?t=58859
Dunny Trade Series 3
http://forums.kidrobot.com/viewtopic.ph ... sc&start=0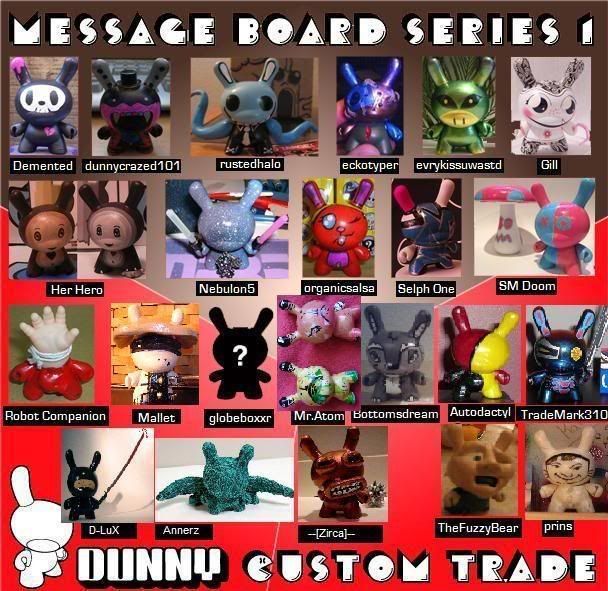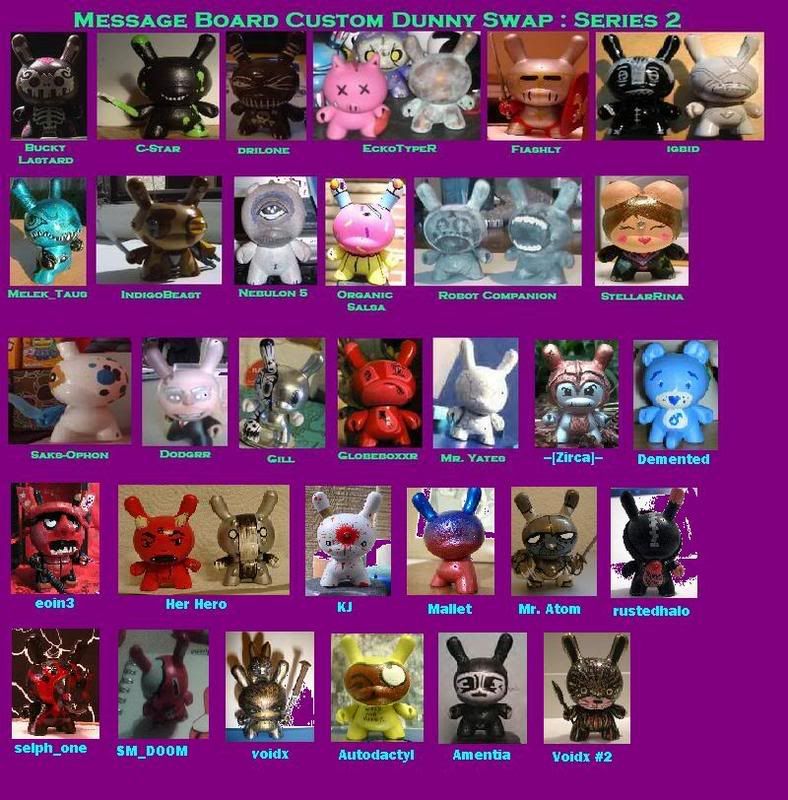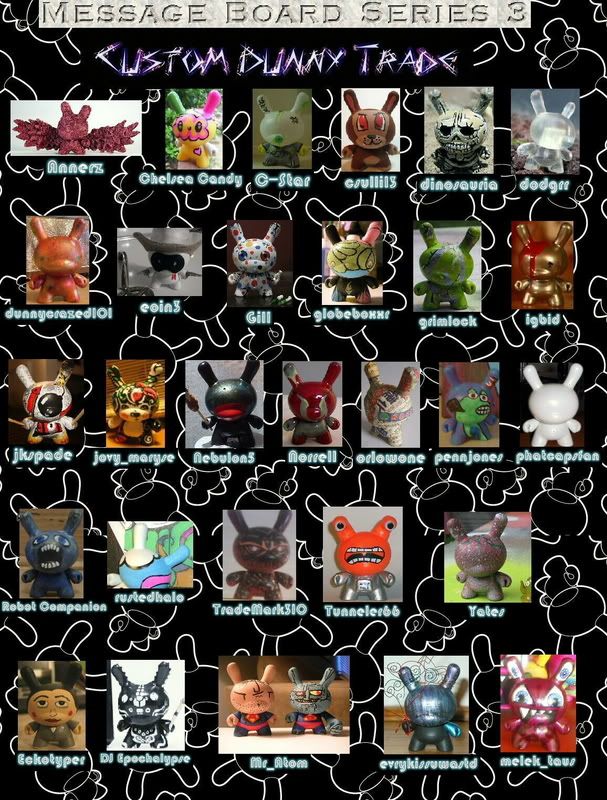 01. friendsw/thetoy
02. Autodactyl
03. eoin3
04. DX_Psycho
05. Nebulon5
06. Pennjones
07. Glennjamin
08. qwest1mark
09. Norrell
10. Robot Companion
11. Fiashly
12. Grimlock
13. rustedhalo
14. CHINO92
15. stellarrina
16. globeboxxr
17. BleedingEgg
18. eckotyper
19. dodgrr
20. Daeo
21. streakzzZZ
22. o_kedoki
23. DJ Epochalypse
24. Annerz
25. orlowone
26. Xom
27. CM2
28. SELPH_ONE
29. codedecoinc
30. uberboy enterprises
31. yates
32. Gothamite80
33. vinylfan06
34. melek_taus
35. Mr_Atom
36. void x
37. prins
38. fast1590
39. ingrownmayo
40. KJ
get them started!