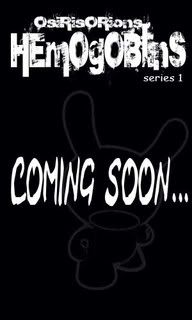 Header Card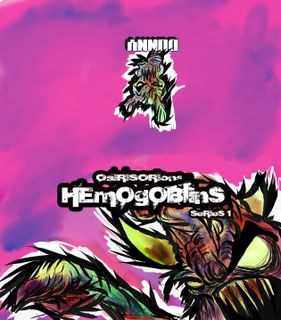 The HemoGoblins
The Secret Chase Figure
UPDATE 10/18/08 ALL PACKAGED AND READY TO GO!!!
UPDATE 11/3/08 8" HemoGoblin Pics Congrats SecurityGeek on pulling the chase!!
What is it?
A custom 3" blind bagged dunny series created by yours truly. Each dunny is hand sculpted and painted on.
Blind Bagged?
You heard right, each custom dunny will bagged in a black plastic bag with a header card.
How many of these customs are in the series?
There are 14 custom dunnys in the series, plus one chase figure that is not a dunny!
Wait there is a figure in this series that is not a dunny? What gives?
Yes, it's a special chase figure...and if you're lucky to pull it, you get a custom 8" HemoGoblin Dunny!!!
When are these dropping? how much...give me all the details!!
OsirisOrion's HemoGoblins series 1 will be dropping on October 27th just in time for Halloween. Each custom blind bagged dunny will be $30.00 each with shipping included!
when do we get to see some pics of these evil critters?
I will posting up pictures on monday October 20th!
Is there a sign up list? When is payment due for these? Do you take paypal?
payment will be due on the drop date October 27th, and payment will only be accepted by paypal to
osiris_orion@cox.net
! The payment due date is flexible, but if you want your HemoGoblin in time for Halloween, sending payment by the 27th is suggested.
Ok guys and gals there you have it, my first custom 3" dunny series is almost here.. anyone interested , don't hestitate to sign up
--------------------------------------------------------------------------------------------------------
List closed ALL FULL - thanks everyone ^_^
1.Spade- shipping info & payment sent
SHIPPED
2.Securitygeek -shipping info & payment sent
SHIPPED
3.ZGiSH - shipping info & payment sent
SHIPPED 10/23
4.Sykogrl - shipping info & payment sent
SHIPPED 10/21
5.ras dunny shipping info sent
6.ras dunny shipping info sent
7.Eggsnbacon- shipping info & payment sent
SHIPPED
8.ZERO27- shipping info & payment sent
SHIPPED
9.K20Lee -shipping info sent
10.nojodash shipping info & payment sent
SHIPPED 10/21
11.ZGiSH - shipping info & payment sent
SHIPPED 10/23
12.RobotBacon- shipping info & payment sent
SHIPPED
13.stylepiggy -shipping info & payment sent
SHIPPED 10/21
14.stylepiggy-shipping info & payment sent
SHIPPED 10/21
15.Securitygeek - shipping info & payment sent
SHIPPED