I'M MARRIED!!! Since getting married cost so much money,

I will be constantly updating this thread w/ new items so please keep a look out!

All items are pretty much firmly priced and dunnys are priced w/o shipping; I will tally up the shipping cost depending on how many items you buy. Sorry I just do not like negotiating back and forth!

I will
only ship items in the USA
, sorry, international shipping is just too much of a pain! Payment will be made w/ PayPal and if you're paying w/ a credit card, let me know first.

PM me w/ any questions! Thanks!

Please help bump as I need to make some sales!!!

** Note: if paying by PayPal credit card, please add an additional 4%; thanks! **
*** Would consider trades for: Dunny series 4 Golden Ticket! ***
**** Prices Lowered on Certain Items!!! Please $15 minimum order!!!****
Black Guard Mad*L MPH Exclusive: $50 shipped
City of Clouds AC (Artist Copy) Print: $90 shipped (has a slight crease; purchased directly from TILT himself)
Huck Gee Metal Skullhead #6 Fully Visual Signed: $130 shipped
Plasticgod Ningyo Project Gosho: $50 shipped
Optimus Prime THS-02 Hybrid Style Convoy: 4" tall but packs a punch! Each THS series Transformer is designed by a well known Takara artist! $55 shipped
SAM Artist Series 01 (shipping NOT included):
Sket 1: $5
Dave Burke: $5
Bloo Empire: $5
3" Dunnys:
please view my dunny sales thread in my sig below!
DIY Figures:
Soopa Coin-Up Vinyl: $40 shipped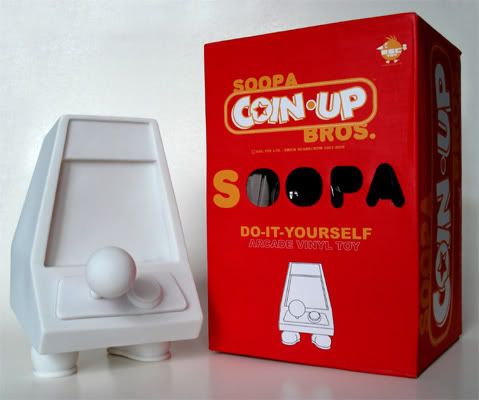 Combo DIY: $22 shipped
Combo Grey: $25 shipped
Combo Red: $25 shipped
Fatcap Series 2:
can combine shipping prices together. Let me know which ones you want - please minimum purchase of 2 Fatcaps!
Damaged Gudz (1/25): $15
Dalek (Blue) (2/25) - $8
Tizieu (2/25) - $8
Andre Charles x2 (2/25) - $8
Shok-1 (1/25) - $12
Pon (2/25) - $10
Toofly (2/25) - $8
Lady Pink x2 (2/25) - $6
Lastplak x2 (2/25) - $6
AW177 Customs:
"2x Happiness" - Custom Flocked Mini Munny: $make offer
Long story short, this custom is damaged; it became sticky (damn Krylon) and I tried to repair it and it came out less sticky, but the clear coat has flaked on the surface.

So will sell it to anyone if you want to make an offer for it (hate to throw it away). It used to look like the pics below, but anyone interested in buying this, I can take new pics upon request.
"Year of the Dragon" Kaniza: $150 @ ToyQube.com
More pics on my
Flickr
!
Not sure if anyone would be interested in these, haven't seen any available on the forums before. I have 3 custom Vimobots that I created for the Mimobot contest back in the day, and since they're just sitting at home and I need some married funds, figured I'd give it a shot and try to see if anyone wants to give them a new home.

"Year of the Dragon" Custom Vimobot (first one done w/ the "Year of the Dragon" theme): $35 shipped
"Love Bug" Custom Vimobot: $25 shipped
ToyQube Kaniza (shipping not included):
can combine shipping prices together. Let me know which ones you want.
And I really hate to add this, but funds are needed:
Keith Poon SIGNED: $15
Brian Taylor: $10
** Stay tuned! More to come!

**