Basically when you buy a
case
(box of 20, (sometimes 16, sometimes 25)) you will get duplicates.
You can usually find ratios online, which will let you know how many of what you'll get in each case. So if it says:
Blue Mega Man - 2/20, that means you're almost guaranteed to get 2 in your case of 20. If one figure has a ratio of 1/40, he is most likely to appear in every other case. And then there are rarer
chases
(the one that only a few people get in their case, due to rarity, and everyone chases after) that are sometimes 1/100, or can be ?/??. If it is ?/?? then it takes some math and example cases to figure out. You can pop over to the Mega Man thread (
viewtopic.php?f=9&t=245448
) and if it seems like everyone is getting one of the ?/?? ones, it might be a 3/80 or something. But if 10 people post their case results, and only 2 people got the ?/??, then it's gotta be pretty rare.
Allvinyls and Trampt are two great sites to use:
http://www.allvinyls.com/megaman.php
http://trampt.com
(Trampt is a little laggy at the moment so for now you may want to use Allvinyls)
Anyway you will never find an entire series in one case. Unless it is an artist case. Artist cases are sent to the each contributing artist to the series and they contain every design. But I'm not sure who designed these, probably someone at KR, there may not be any artist cases. Here is an example of one: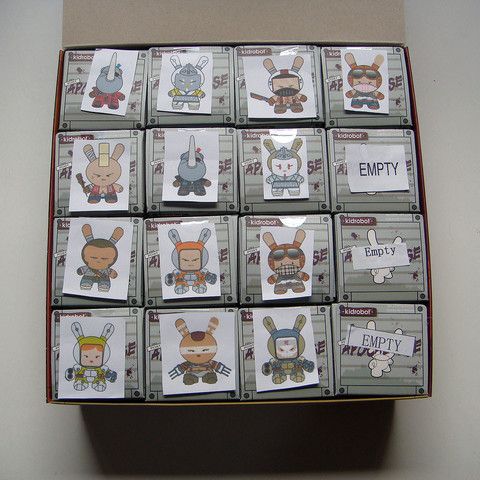 Hope this helps