Connect with your social network account
Moderators: Kidrobot Guru, zonnie5
I was curious to know if anybody else was going to participate in this. This will be my first time doing anything like this so I'm really excited/curious about what I'm going to encounter in this thing!!!

On another note: I signed up my little sister but she'd rather attend a panel (total jerk, I know, lol). Considering the tickets are non refundable, I'd gladly transfer her ticket to anyone interested in participating. I'll even pay for part of their ticket to sweeten the deal. No pressure though, my sister paid me for the ticket so...meh, lol...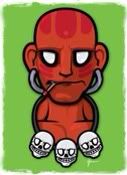 Quest Ion

recommends

:
http://forums.kidrobot.com/viewtopic.php?f=10&t=200141
Quest Ion

burns

:
---
Posts: 2
Joined: Wed Nov 27, 2013 3:51 am
im guessing you are talking about that guy merls brother, i havnt seen the new episode yet but he was annoying in the last, you recognise him from blade 2 aswell ? he played that guy scud, another annoying character.
---