Connect with your social network account
Moderators: Kidrobot Guru, zonnie5
I'm looking to move this stuff to make room so please don't hesitate to let me know if you're interested! Would love to do bundle deals as well. In general, prices include PP fees and shpping to CONUS.
Discount available for local pickup if you're near Fort Lee, NJ and want to pay me a visit.
#1 - Large Vinyl Toy (Animal!) Lot -- $100 !!
Includes: Clear Blue Labbit 10", Kozik William Reginald & Henry Green*, David Horvath blue toy, random 3" dunny, Crappy Cat, Kusopop Rhino "Jouwe"
None of this includes boxes, what you see is what you get!
8pcs + Included Accessories- hat, bird stand, umbrella, umbrella stand
*There are two places super glue was used in the William Reginald Henry set, neither is really noticeable. I tried to get close-up pics as best as possible. One was one of the umbrella pegs snapped, and I put it back together. Although, I still never figured out how to get the umbrella to stay up at any rate. The other is the pipe attached to the rhino which got damaged in shipping. I super glued that back together, and again it's not noticeable.
#2 - Instinctoy Curio #1 (White) - New in box/Never Displayed (Only took pics to verify) - $200
#3 - [SOLD] Thimblestump Hollow Carnival Edition Case of 12 Blind Boxes - Sealed (Spayd/Ryniak)
The case contains the complete set, there will be no duplicates. Includes both chases.
#4 - Ashley Wood/ThreeA Midnight Surgery Print (S/N, 2012) - $200
Stock Image:
Details here:
http://forum.expressobeans.com/viewtopic.php?t=89449
#5 - [SOLD] Ashley Wood/ThreeA Underverse Ninja TQ Tsuru - New in sealed Shipper - $155
#6 - JLed Green Swamp Bear Qee (8", 2006) - $50
I'm the second owner of this but I never displayed it myself due to really limited shelf space. I had originally intended to put it up in the office, but I switched jobs and don't really have more room. It's in pretty good shape for it's age, although box definitely shows some of its age. Complete w/Box
#7 - Tado Uncle Bucky 8" Dunny - $50
Similar to the above, I'm the second owner of this but never displayed it. Small scuff mark shown in pictures. Also, the paint on the rod accessory seemed to be bleeding a bit, but it's hard to show in picture. Complete w/ Box
#8 - Sylvan Prankster (Gary Ham/Pobber) - $65
Displayed for a few months, put away to make room for new stuff. Complete w/ Box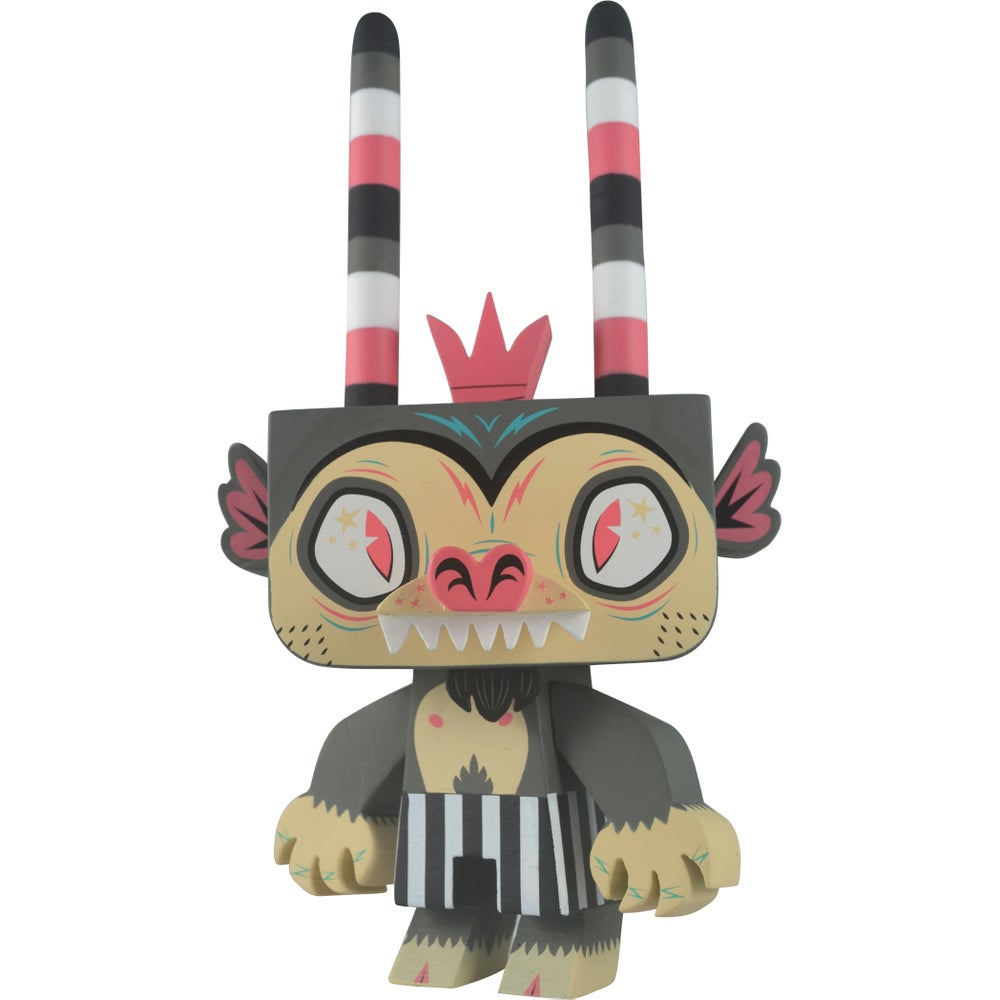 Extra pics of toy lot and pics of other items here:
https://imgur.com/a/OXDRE/
Please don't hesitate to let me know if you have any questions. I will probably be adding more over the next few weeks as well. Thanks!
Last edited by
madmax405
on Sun Dec 17, 2017 11:42 am, edited 1 time in total.
---
Bump.
Thimblestump Hollow Case is sold.
ADD
[SOLD] ThreeA/3A & Ashley Wood - Dirty Deeds V2 Bertie V2 : New In Sealed Shipper
Medicom Toy - Real Action Heroes Unit EVA-02 from Evangelion 3.0 YOU CAN NOT REDO : $240 New In Sealed Box
---
Tsuru TQ Underverse Ninja and Dirty Deeds v2 WWR Bertie v2 are Sold
Adding Touma and Gargamel Toys:
Zoppy (Zombie) Dog (Green) - $30, New sealed in bag with header card
Gargamel Hedora/Hedorah/Hedoran Minis - $45 Each in pic. Take all three for $105.
---