Connect with your social network account
Moderator: Kidrobot Guru
::Shows::
Beasts Of Burden : Custom YOKA Show - July 25th & 26th from 6pm-10pm
680 West Beech Street No. 1 San Diego, CA 92101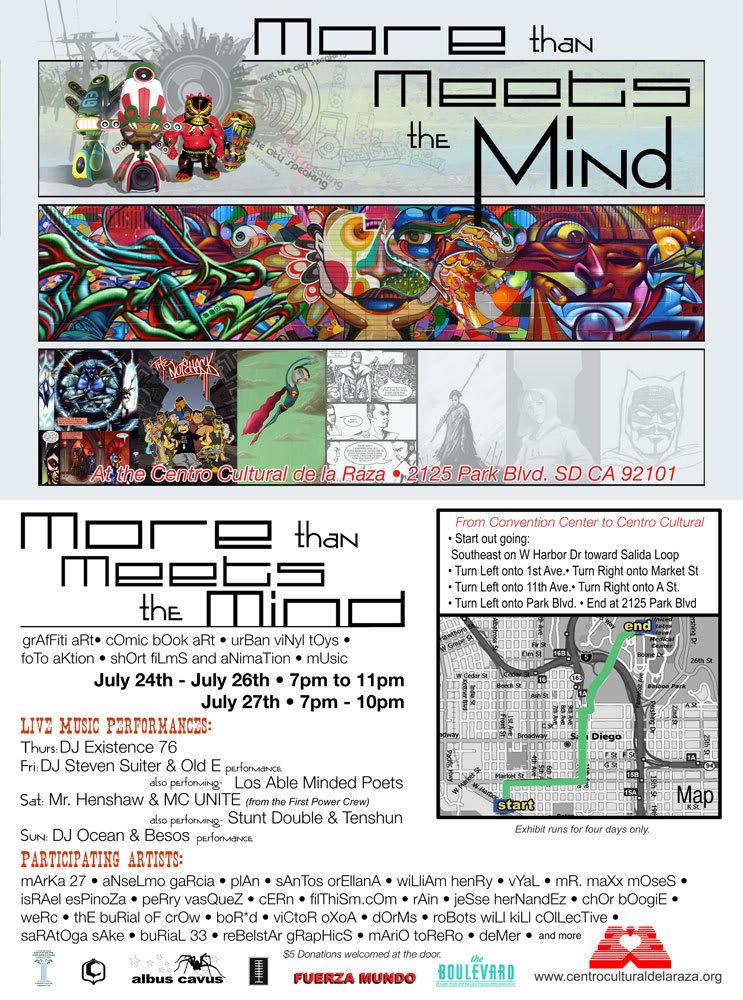 Last edited by
drilone
on Thu Jul 03, 2008 10:00 am, edited 2 times in total.
---
---
nice, I'll be there.
+ Sellers: fast1590, o_kedoki, highland19, AL_R, Metatron1050, skor one, prins, zephyr, Bo0oYaH, drewproduces x2, whthalo, another-waver x 2, whthalo, louleeboo, mzkayDi x 2, lucky13, grimlock, ontheDL, chefjtLucky13, eckotyper, ism, PlasticMe, NikeJerk, Slack, Ash_KBear,etc,etc,etc....
+ Trades: c-money, DreVanFuzen, rustedhalo, zephyr, FericFanatic, kp, smoking-plastic, cbankla,etc,etc, etc.
+ Buyers: Nebulon5, Fiashly, ontheDL, likkuid, mastahvic, LEARN2LUV, at321fakest x2, lickyourelbow, phatcapsfan, just1nj, LIVE, JenKa0s, gustusbear, osoroshii, Urban_Yeti x2, NinjaSkills, Brinnerz x3, Lfarnc, snitz, yanksb11,etc, etc..
---
Ima try to hit that up as well.
This is gonna be great.

Hawaii vacation 12-17 july
back to san diego for a day
Vegas vacation 19, 20 july
back to san diego
SDCC 24-27 july
go back to Middle East 31 July

Sweet!!!
great transactions- tedmcintyre, grimlock, eckotyper, toddivision, wigletbill, ontheDL, baronacasino, jonvespa, mattFoley, haverford, mrfang, MANIMAL, wizeguy, DeanoMeano, MikeTeeVee, taniamc, c.drx, mcnail, acityinside, DreVanFuzen, pennylesspig, SPS, djmerge1, whyhoo, Molotow Belton!, barnettkthrn, Axine, D-Lux, Tacune, mrmonkey, ricekilla, contra808, mourningwd, daeo, stormtr00per, PlasticMe, killmylovekill, Zeeshan, richardtharbaugh, zonnie5
1st great trade: theevilcube
pending- 2H (print), Peeks n 179 (custom painting)
---
Posts: 1301
Joined: Sun Jul 23, 2006 1:02 pm
Location: SDCA
any other customs shows?
DO NOT SUPPORT MINDSTYLE OR KACHING BRANDS. THEY HAVE SCREWED OVER COUNTLESS ARTISTS. IF YOU CARE ABOUT THE PEOPLE THAT DESIGN THE ART YOU LOVE, THEN DO YOUR PART AND BOYCOTT THESE COMPANIES.


Great purchases from HBCoffin, Quest1mark, ontheDLwhoooops,Fericfanatic, Justinvancouver, flabby, lasergun, mossy, the Count, xblmanimal, sindekat, agitprop, irsk, Playdoh, puppetbrain, Tommynathan, Toybox
Great sales to De Large, SAMBA, zombiemonkey, justsusy, uberboy, guinnessfan
---
---
ahh yeah
dont sleep
I am an OG 3A Legionnaire
WANTS: 05 SHINJUKU (LAST ONE)
WANTED LUKE CHUEH PRINTS:"Life By The Knife" & "Jacked"-last two I need


Luke Chueh Collection & Possessed Army
OG Possessed Panda
SALES THREAD-http://forums.kidrobot.com/viewtopic.php?p=1147494#1147494
---
Posts: 5
Joined: Wed Jul 23, 2008 3:11 am
AHHHHHH Is Olivia Munnn gonna be there!!!!!!
---
Posts: 1280
Joined: Fri Feb 16, 2007 5:28 pm
Location: anaheim
damn would love to be there for the G4 things but not going to SD till Friday morning
great transactions with:
magicmanjk808, joshua, nmr509, k8, lyte-bryte-boy, upsidedown (x2), mrmurk, run-a-mucker (x2), tommynathan, d-lux, labbitrabbit, axine, zopboy, orlowone, autodactyl, zeeshan, rustedhalo, streakzzz, zephyr, eckotyper, remark, adunn, cahrowline, whthalo, *addict*, j3tang, dieselbouy, o_kedoki , bk_bk, rangelo4444, baronacasino, haseown, j y e e, sup727, saiko, Xmeat11ballX
---