Connect with your social network account
Moderators: Kidrobot Guru, PI Jacky
Play Imaginative will be releasing the mini Ugly Dolls Handphone Strap & Zipper Pull at Singapore Toy, Games & Comic Convention (STGCC) on 14-16 August 2009. It will hit the stores shortly after STGCC.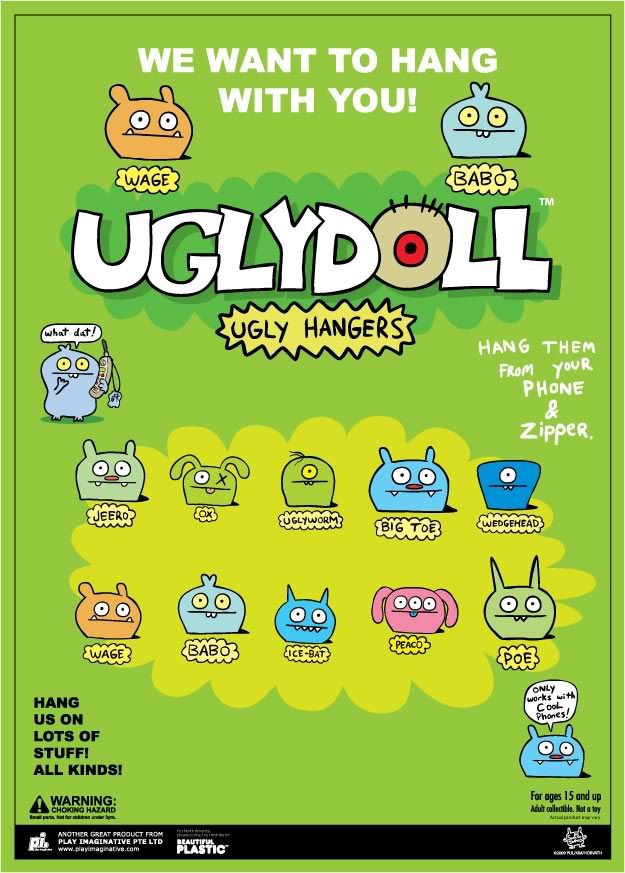 ---
I'm looking forward to these - are the 10 listed the whole set? Is a second set in the works? Just hoping to see a few of my favorites, like Chuckanucka, that don't get enough love!
Successful Transactions:
the_sentient, 250C, funnymunny, Mz59Fifty, sgr1000, rco, therealchinaman, nypedestrian, DiZiXtOiD, Kevbayer, Ryn, Shibori, BurymewithmyToys, Roach, Prophecy, genejo, coreyxc4, Nicedream, Mongo Lloyd, Eiji, mooshysushi, lediscode, DManTX, Spooky+, SUSAN2008, originalkaws, killerz4ever, Dieselfeast, mzkayDi
WANTED: Bunnywith a Banana Suit by Alex Pardee
WANTED: Shuttlemax

(

Classic

,

red

,

HK

order of colorway preference) by Bill 'Billions McMillions' McMullen
---
Posts: 389
Joined: Mon Sep 28, 2009 4:25 pm
when will these be in stores? I am DYING to by 100,000,000 of them! They are so cute!
---
Releasing in Dec/Jan.
There is a total of 10 designs.
---
Posts: 389
Joined: Mon Sep 28, 2009 4:25 pm
---
Any update with these guys?
---