Hi there,
I'm doing a project on essentially footwear packaging. I've combined the idea of a blindbox with limited edition shoes. The shoes all hold illustrations by pixels artists Eboy and have been applied to the Supra Society range.
As the shoes are blindboxed you would not know what shoe design you are purchasing, but the shop would hold some of the designs so you could try on for size ect before committing to a purchase - but like all blindboxes there is always a chance of receiving a very rare item.
Ill show you the examples and hopefully you wouldn't mind answering a few of my questions below.
1.
2.
3.
http://hellorachael.co.uk/project/shoeseries.png
- view larger here if needed.
If you were to see any of these packaging examples, would you consider buying the product? (price is not relevant right now) Example 1,2 or 3.. and why?
Is it the product or its packaging that you find appealing? (or not)
Would you keep the packaging if the product was purchased? What would you use it for? Storing the shoes when not in use, keeping it in case you want to resell later etc.
What do you think of Supra shoe packaging as it stands right now? (see below, so hard to find a good picture! Sorry)
When comparing this with something like Coarses packaging, in my opinion one doesn't compare, although I am aware Coarse costs about 3 times more than a pair of Supras.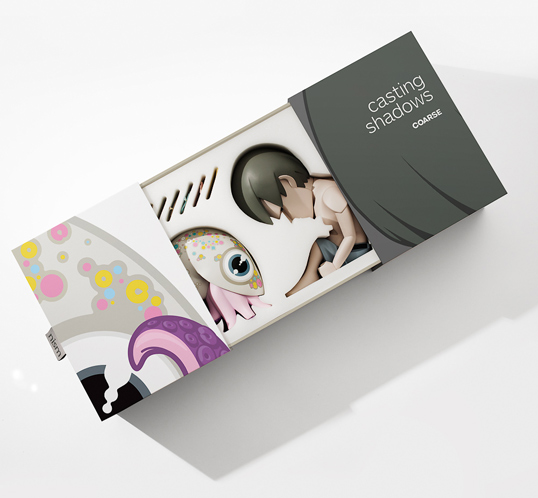 However, the shoes in question will be limited edition, around 1800 pieces altogether. So the packaging should be something special. The packaging opens like the Coarse example as shown above; they all open from the middle so the sides slide out and to ensure no tampering has been made a sticker will seal these sides together.
I just want your opinions; what works what doesn't, whether having a nicely designed box will add to your overall experience of unpackaging, if you would keep the packaging and put it on display etc... Example 1,2 or 3 and why?
I've also created interactive PDFS where you can view the models in 3D through rotation, just make sure you allow Adobe Reader

White box -
http://hellorachael.co.uk/project/Eboy1.pdf
eBoy shoelace -
http://hellorachael.co.uk/project/Eboy2.pdf
Eboy background -
http://hellorachael.co.uk/project/Eboy3.pdf
Thank you so much if you've taken the time!
I hope you can answer a few of my questions, it will really help me in writing my dissertation

Alternatively i've created a survery:
http://kwiksurveys.com?s=LLIEIH_9daabb8e