Connect with your social network account
I always get hung up on weather or not I should put faces on my customs or leave them abstract looking.Deep down I believe that people need more to identify with and abstraction is too obscure for the average. What do you think?
[

Added

: Wed Mar 12, 2008 5:55 pm ]
Come on community have I lost your interest? You mean to tell me that knowone has an opinion about my new creation? Have I been reduced to commenting on my own work and stroaking my enormous ficticious ego. I have no problem with it except its not very entertaining for everyone else.
I know I come off as an egomaniac to some but I'm really just trying to expose my talent and hopefully make something out of myself so I can make my family proud just like everyone else, I think.-KaMo (Stay Tuned)
Last edited by
KaMo
on Tue Mar 18, 2008 11:37 am, edited 1 time in total.
---
Posts: 91
Joined: Thu Dec 14, 2006 5:58 pm
Location: Northwest Ohio
Try sticking it on the right board. Maybe the "Custom" board?
Wants: Sugs: red, grey, yellow. Kaws Dissected any, Bigfoot brown, UHF Groob, Bird is the Word, Lionheart red or black, Boris brown or original, Heven Boy, dumb luck black, kawsxpushead silver, black, or brown, brothersjoker bowl, mist malus kaki or sand, bonass flesh,
---
I vote no Face

Faces would be good if they were integrated and part of the design from the get-go. A face would look too "alien" on this custom IMO

Its abstract. The paint blots/shapes/textures in the areas where the face features belong, already exist. I think the custom is fine as is. I think its one of your better custom jobs.
Refs:htlkid25, Bo0oYaH, busizem718, jun2, DreVanFuzen, Bluefin, Parotkilah, EASheartsVinyl, PJay, jmf337, bboyilluminati6, toddivision, D-LuX, scarwars, FuzzFace, Tizight, unmundane, Peter_Awesome, Graf-Toyz, Naturaljoe, tattooedjester, harm
---
Posts: 26
Joined: Wed Mar 12, 2008 11:53 am
+1 to no face. but i think the thing looks great! love the color scheme.
---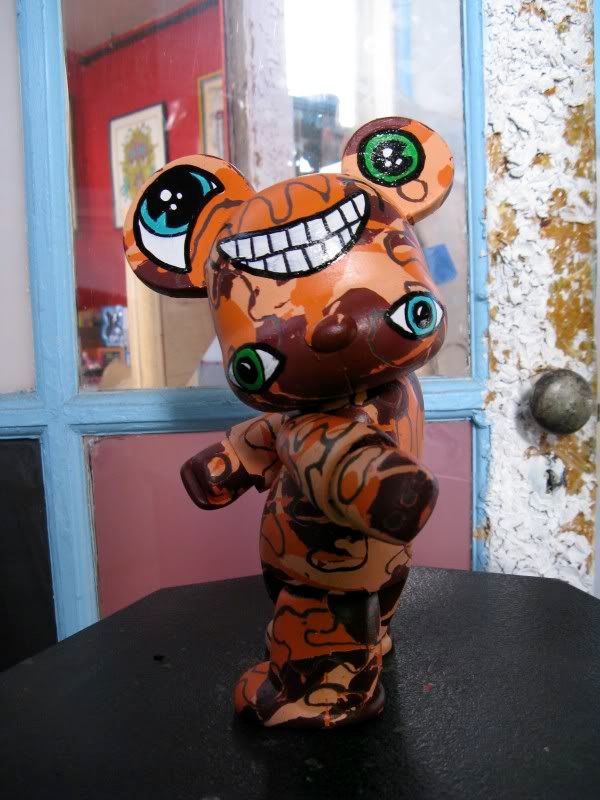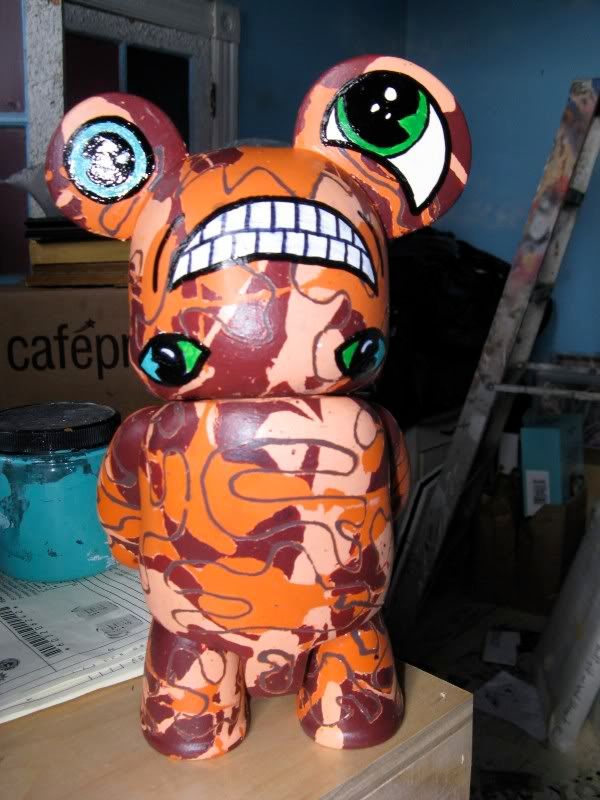 Even though I didn't get but one comment(tks ninwest) about K1M2 I was still thinking of an audience so I decided to make it with eight eyes so nomatter how you look at it, K1M2 can stare you down from almost any angle. And If you don't like it then maybe you should have helped me when you had a chance.-KaMo
p.s. K1M2 will be on display in APW gallery's show next month.
---
Posts: 150
Joined: Thu Jan 10, 2008 3:04 pm
Location: London via NZ
Contact:
those eyes look scary. the abstract reminds me of the new bape be@rbricks.
cool colour pallete

I bought a Qee today, got in a bad mood so decided to soothe the soul with a bit of painting. Can't wait now
---