Connect with your social network account
Hi guys,
I had my prototype Felon arrive back from the guys at 3darttopart. This is really just information for anyone else working on their own stuff as I have decided to make some changes and shrink him drastically, rising global costs (or some such, not too sure on the reasons, something to do with oil, the nasdaq, the dowe jones and possibly the illuminati) means that in order to cast this guy in resin if anyone wanted one for themselves we'd be looking at costs of about $150....

Anyway, just wanted to show what the 3d printing can produce and I gotta say I was pleasantly surprised. While there is some 'grain' as described by 3darttopart on their site (see pictures) it's nothing too drastic and the material they use is easy to clean and sand to a smooth finish. The item itself is heavy, and feels really solid in your hand. If anyone else is using 3d software to design with you'd be well served to check them out.
One thing to bear in mind though: Thin parts, some of the smaller elements of my figure did not come out exactly as I planned so take this into account when designing, the process has it's weak points.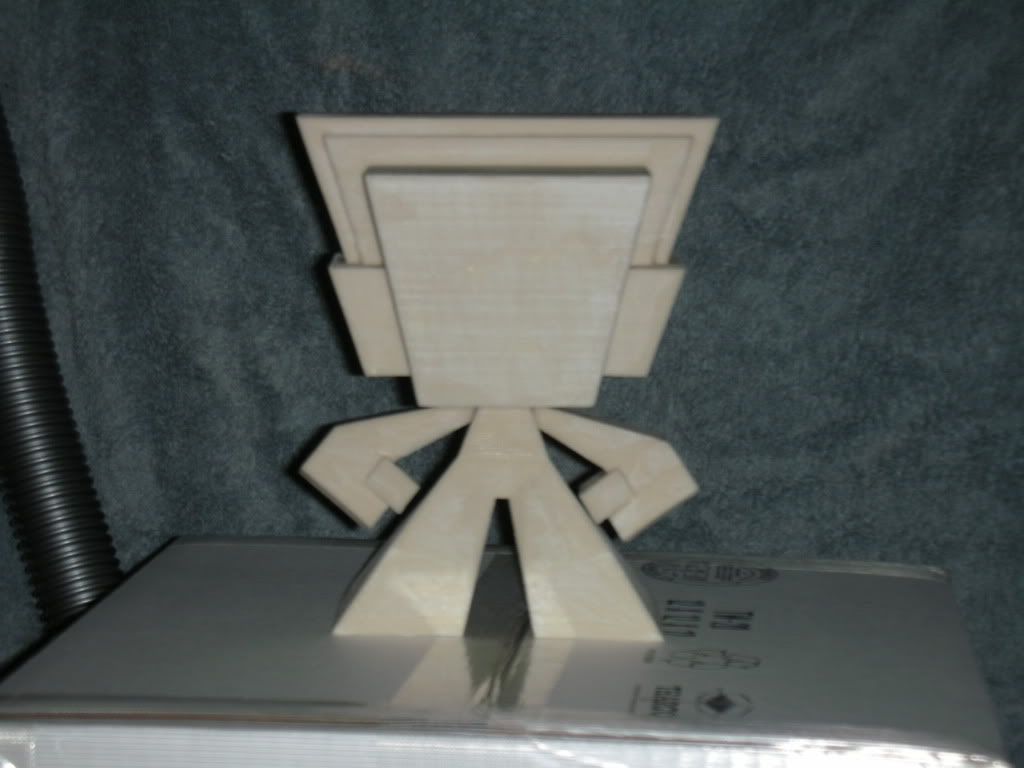 Here he is at 8 inches tall. Gonna have to halve that I think...
Thanks
---
I like your toy design. Great shape and style to him. As for casting, you could lower the overall volume of resin needed by slush casting, or rotocasting and leaving the head hollow. This would also have the benefit of improving his stability, if the legs were solid, and the head hollow.
"Science is nothing more than the formalized application of witchcraft" - S.Williams
---
Looks great, how much did the prototype cost you?

I'd be interested in bringing some designs I have to life for home casting.

Cheers
DMS
---
Hey clayforge, sounds like a good idea - I have no idea how to go about slush casting through, do you know of any resources or weblinks?

DMS, this set me back $400.00 (approx) which included shipping to the UK. Very reasonable as I had quotes from as far afield as China for around $900.00 to $1000!!!!!
---