Connect with your social network account
Posts: 455
Joined: Wed May 02, 2007 9:11 pm
Location: Strong Island
i got inspired by the MIRF piece comoing out soon and got inspired to do my own 3d graffiti piece but i dont know thing one about how to go about !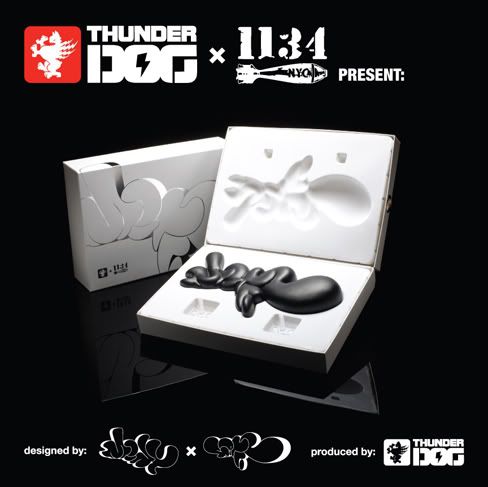 im guessing id have to make a master mold, then a negative , then be able to duplicate it , but i need help with specifics and i need to be able to color it. any help is appreciated
---
You would need to sculpt the prototype from super sculpey or something, then make a two part silicone mold from it to cast from.

I'm messing with ideas for something similar cast in wax as a candle.

The foam box insert the piece is sitting in is basically how the two piece mold would look without pour and vent holes etc.

DMS
---
Posts: 455
Joined: Wed May 02, 2007 9:11 pm
Location: Strong Island
i would plan on it having a flat back so no need for a two piece molding. i was planing on starting with a clay master, cook it to make it hard, then make the mold, but what material should i make the copies out of ? i hear all these epoxy, mix blah blah and they all sound similar, which ones are paintable ?
---
I can't really advise on resin etc, i have used resin plaster in the past but at the moment, wax is definitely my medium of choice.

DMS
---
Posts: 455
Joined: Wed May 02, 2007 9:11 pm
Location: Strong Island
yeah but wouldnt wax be at risk of melting ?
---
Yeah, i should have explained that i use wax for candle pieces

---
Posts: 17
Joined: Sat Jun 21, 2008 5:29 am
Location: Edinburgh, Scotland
Contact:
Hi,

the material you make the mold out of will depend on what you want the finished piece to be made from.

I make glass and use plaster, silicon, hard rubber, wax, alginate & clay to make my moulds for the glass to be finally poured or melted into. I'm happy to share some moldmaking techniques with you though...

Rachel x
Great Sellers - raajr187, aka-man (A+)
Great Buyers - stereopanda (x2)
~
Please see my glass art website for more sculpture & jewellery.
~
I will be selling my glasswork, including new Cake Buddies at the West End Fair, Edinburgh, Scotland from 2nd - 17th August!
---
there's tons of info on this board and others on casting and moldmaking.
check smoothon for resin and silicone mold material. you can tint resin to any color you want using different dyes they sell. after that you need to spray, hand paint it or whatever.
as far as materials I use SC300 and 325 resin and Reoflex 30 silicone from Smoothon.
good luck. thats a project i've always been interested in trying as well.

-a
---