Connect with your social network account
Moderator: Kidrobot Guru
Posts: 128
Joined: Mon Jun 21, 2010 1:56 pm
Location: Los Angeles
Contact:
Presenting the "16-Bit Relic" - A custom 8" Kidrobot Dunny commissioned by a private collector.
Back in the ancient times of the 90's there was a crude digital Dunny, prior to the shape we all currently know and love, that never saw the light of day. After years of excavating this artifact has finally been unearthed; a remnant of a digital era long forgotten.
Constructed using over 660 individual cubes, this antique was no small feat to create. Will there be more of these fantastic wonders of the past exhumed in the future? We'll shall see!
Thanks for looking!
Josh Mayhem
http://www.joshmayhem.com
---
I love the concept for this.
Great choice of color. It definitely adds to the old school vibes.
Great job!

http://trampt.com/users/QTPie/feed
Great Sellers
: halfapparition, noeleaser, belfinatorzz111, (nice dream), paulzdeep, 666ways2love, rjxdang, w33zy16, cmk802, QUASIMO, Ath, fast1590, kgyure, mavxb3, DexDexign, MattPower, delicious62
Great Buyers
: Counterbalance
Great Trades
: DManTX, MattPower
Muled for
: patrick40, ShizRobot, kgyure
---
Posts: 137
Joined: Thu Jan 28, 2016 5:02 pm
Contact:
---
I wouldn't know where to keep this on my shelves - with my dunnys, or with my games!?

---
Posts: 547
Joined: Tue Oct 16, 2007 3:56 pm
Location: Manchester UK
Love it!

Out of interest, what cubes did you use?
---
Posts: 36
Joined: Tue Oct 25, 2016 8:29 pm
Location: CA, USA
JM posted a video of the process on his IG
https://www.instagram.com/p/BRzftErjDSh ... oshmayhem1
This is a still from it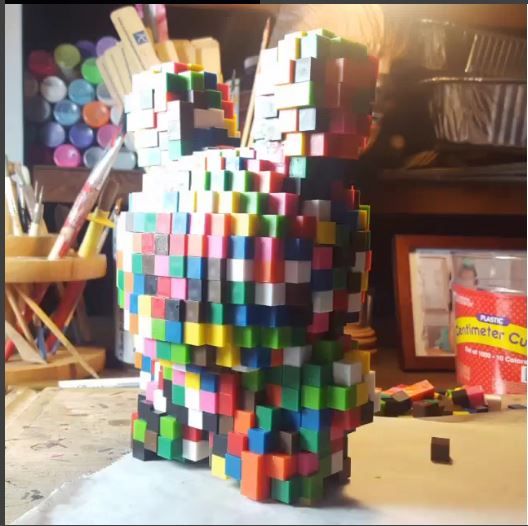 Looks like something called "Plastic Centimeter Cubes".
Looking good and seeing well, or is it Seeing good and looking well?
Faith ; Practice ; Study

Good Transactions: MellowB , realtyguy808 , delicious62, slobot , joshmayhem , dunnyjake , the-Magpie
---