TLDR;
I'm making an iOS Dunny app, its called Dunnydex and its almost done. Here's some screenshots: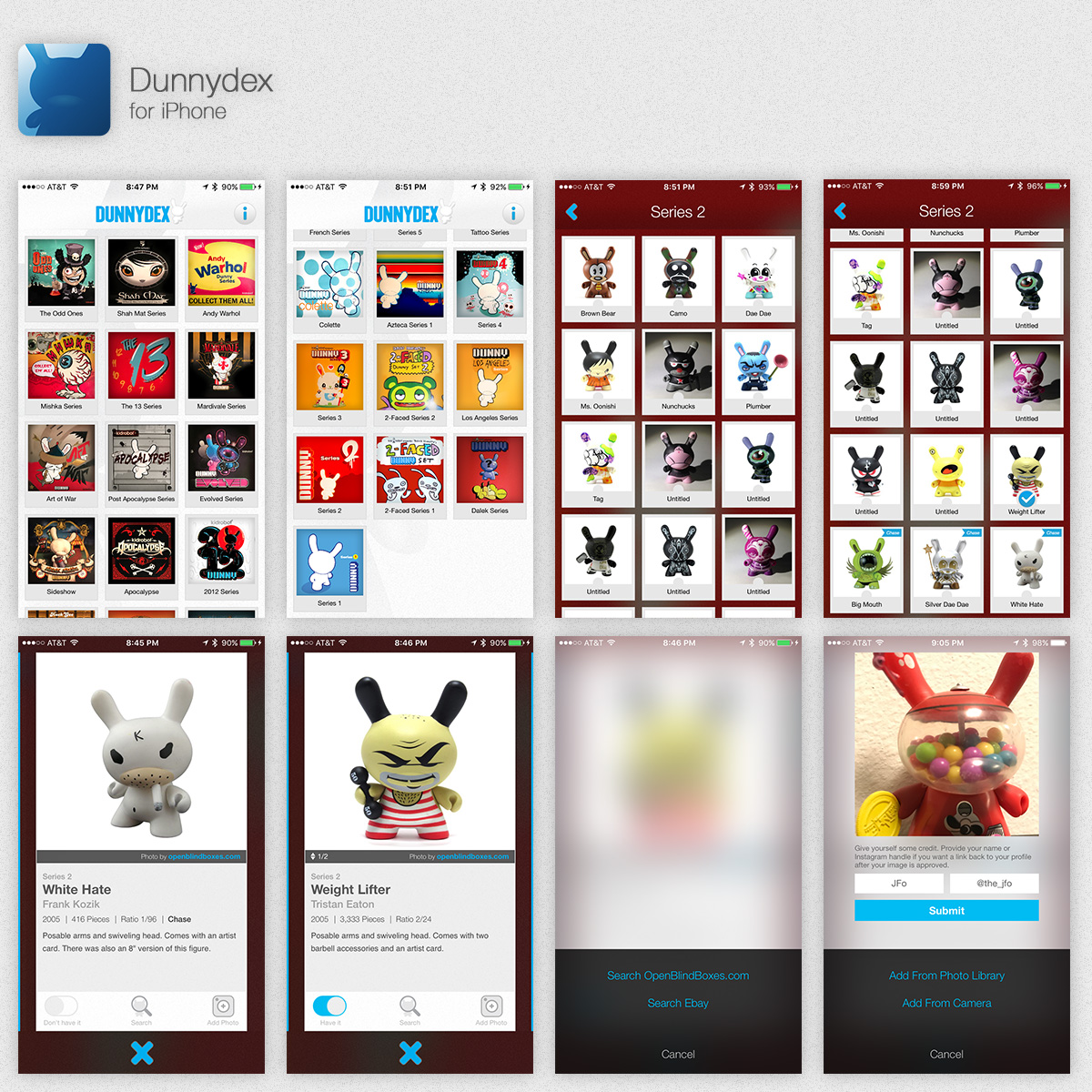 It started over in this thread...
http://forums.kidrobot.com/viewtopic.php?f=11&t=255552
... so for the last few weeks I've been working on a Dunny-specific checklist/info app. The app will be free, have no registration/sign up, and I don't have any plans for advertising/sponsorship other than a search feature for both Ebay and OBB.com, and I suppose the implicit Kidrobot advertisement since it is at its core a checklist for their products.
The reasons for making the app are many, but mainly I wasn't happy with the options available, nothing was doing all of the things I was looking for and were easy to use and/or actually looked nice. I do design and iOS development for my day job, so it was a good exercise during some free time and also a way to share a little something with the other Dunny collectors. Mainly I'm just doing this because I think it'll be useful, and my goal was that it looked nice, and that it was super-easy to use.
The backend/design/development is 95% done, so I thought I'd share some progress. I'm currently in the process of gathering info from around the internets and entering it into the database, which is obviously going to take some time. Big thanks to Mike at Openblindboxes.com for sharing image assets and info which has been a great time saver.
I'm planning to at least get all of the series releases added before launching it (hopefully before Jan 1). then adding the one-off and exclusive releases soon after. There are also a ton of amazing/clever Dunny photos I've seen on Instagram, so I've added the ability for anyone to easily upload their own creative images that can be displayed in-context with a specific Dunny with a link to their Instagram profile to maybe get a little bit of added exposure and followers.
Not to get ahead of myself, but here's some things that I'd like to add in a future version(s):
• Artist bios, it'll be some leg work probably, but would be cool to have that info in there, with links back to their site/store
• Customs, thinking about a section for displaying customs and letting users add their own info/photos
• Search and sort, search for an artist, see all of their Dunnys, etc.
• Maybe an iPad version
• Maybe some kind of gamification for the completists like displaying your collection progress for each series etc
PS, if anyone here does (or knows someone who does) Android development and is interested in making an app (on their own dime and time), hit me up and I'd be happy to share the API details so there could be an Android version as well.
PPS, if you have an iPhone and are interested in beta testing with limited data, send me a PM.
Sorry, that was a lot of information, I like sharing.