Connect with your social network account
Moderator: Kidrobot Guru
Posts: 13258
Joined: Wed Jul 06, 2005 2:13 pm
Location: NYC
Signed Martin hsu 'Blacky' the Dragon Dog limited online release tomorrow, 09.25 at 9:00am MDT

Just wanted to let you lovely board members know that KR will have a special limited release of 10 Dragon Boy Blacky pieces signed by Martin Hsu on Kidrobot.com tomorrow, Thursday, September 25th at 9am MDT!

So if you weren't able to make it to KRSF this past Saturday for the signing and release, here is your chance to come up one one!

This info is to give you all a heads up at the chance to grab one of the 10 before the fly out! The info has yet to be posted anywhere else, so be sure to set them alarms!
THANKS!!!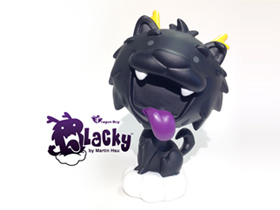 ---