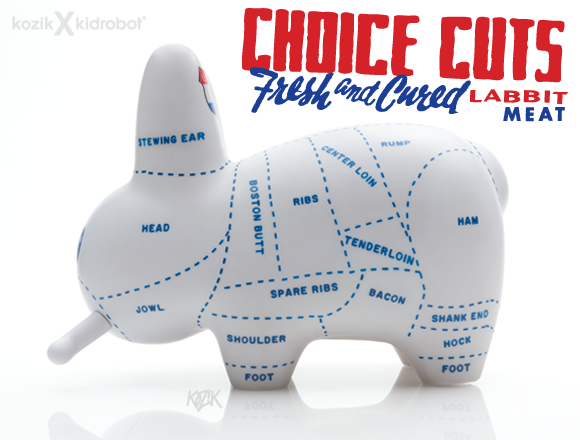 Choice Cuts 10-inch Labbit by Frank Kozik
Some prefer beef, but we just love Labbit. It's what's for dinner tonight!
Choice Cuts is a 10-inch guide to how to chop, slice, and dice your Labbit into the tastiest pieces possible. He even comes with a matte white bone perfect for grandma Labbit's stock recipe! The USLA has labeled this hog a perfect F for Fantastic – the best grade a Labbit could get. Available beginning February 9, Choice Cuts Labbit retails for $80 (£64.10 UK; 74.30€ Europe) at Kidrobot stores, kidrobot.com and select retailers worldwide.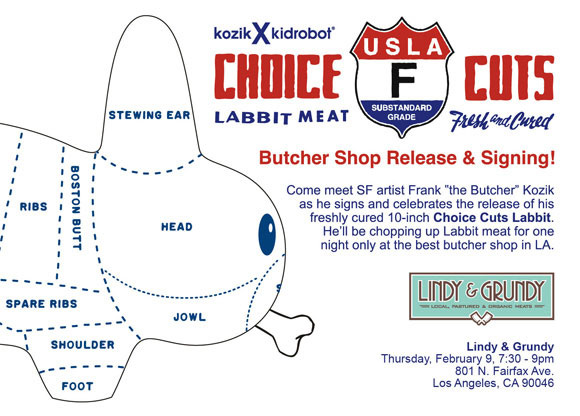 Choice Cuts Labbit Release & Butcher Shop Signing at Lindy & Grundy
Join Frank Kozik and Kidrobot for the coolest sausage party ever — literally! Get your fill of the tasty new Choice Cuts 10-inch Labbit Thursday, February 9 from 7:30-9pm with LA's finest meat mavens, Lindy & Grundy. Come meat the SF based artist as he celebrates this freshly cured release for one night only in a real life butcher shop featuring a specially prepared Choice Cuts Sausage. Lindy & Grundy is located at 801 N. Fairfax in LA.